More on our short trip to Curacao.
We were at Barbara Beach at the Santa Barbara Resort, when we saw a little smoke in the distance. We were done for the day so we decided to take a look: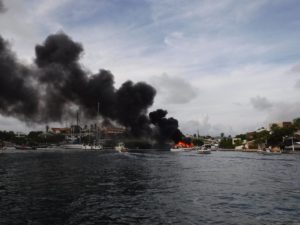 This was a tour boat that takes people out to Klein Curacao. Terrible.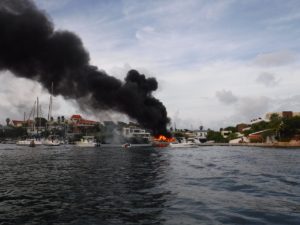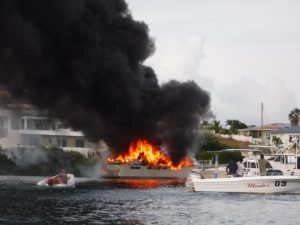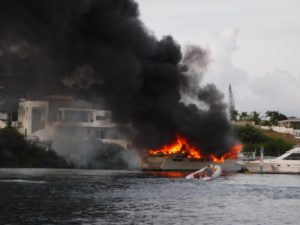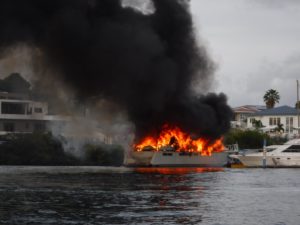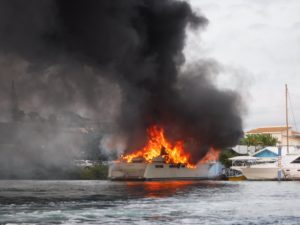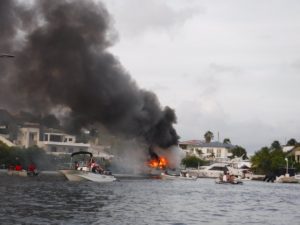 Heading back to Willemstad, waiting at the bushalte. Someone took out the bus stop sign last Saturday night…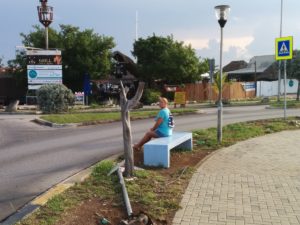 Fort Amsterdam which is the Governor's official residence: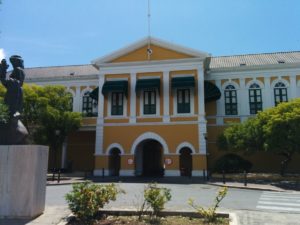 Through the tunnel: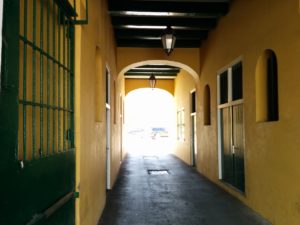 Into the courtyard/parking area: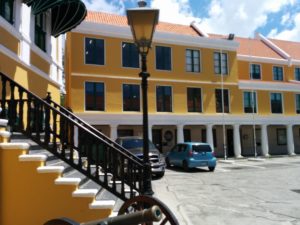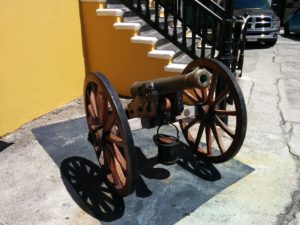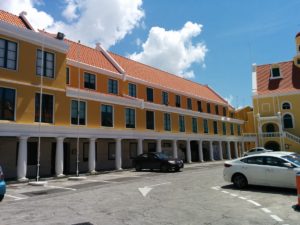 Church in the fort. There is a black speck just to the left of the small window at the top of the facade: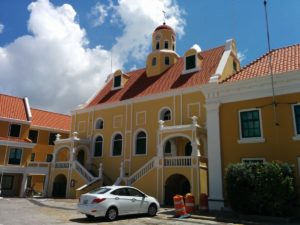 That black speck is a British cannon ball from an attack in the early 1800s: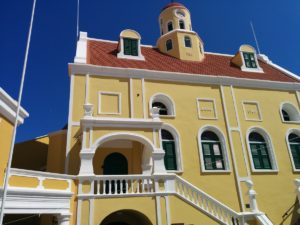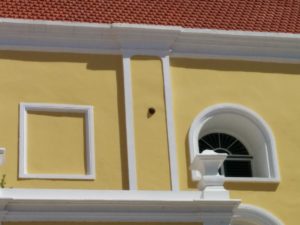 Offices in the fort: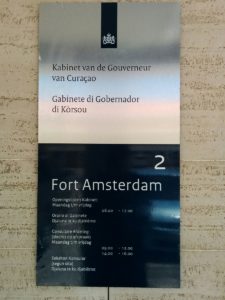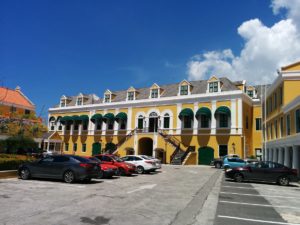 And back out to town: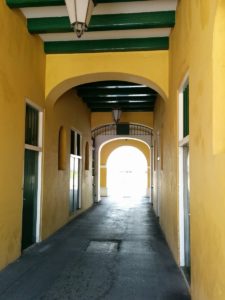 Another government office just down the street:
The Chief Prosecutor's Office. I thought it was a church…I don't want to go to church there: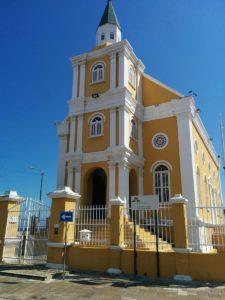 I thought this old cinema looked cool: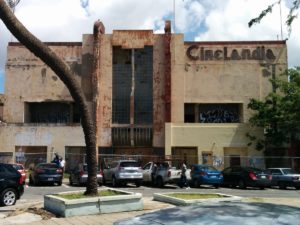 Shops and restaurants built into the waterfort ruins at the east entrance to Sint Anna Baai: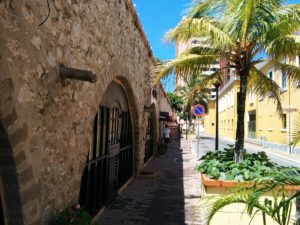 The shops and restaurants are in that fort but actually around the corner facing the ocean: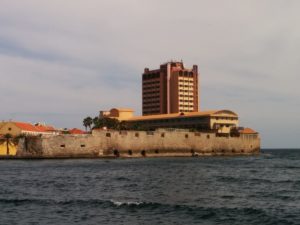 Punda section of Willemstad: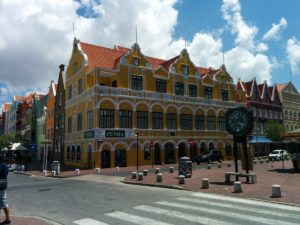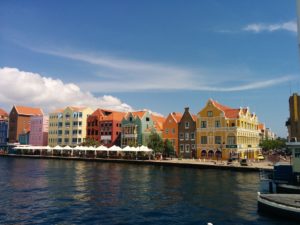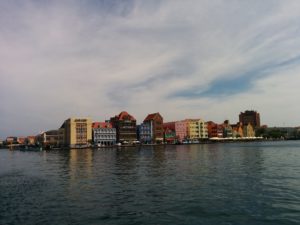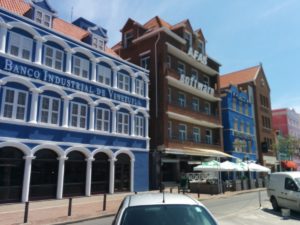 We ate at The Iguana Cafe along Sint Anna Baai, it was very good and not too expensive. All they serve is Iguana…kidding: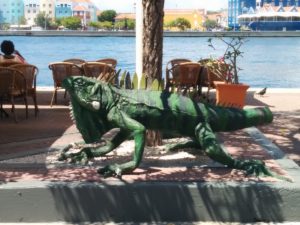 Nice view of the pontoon bridge: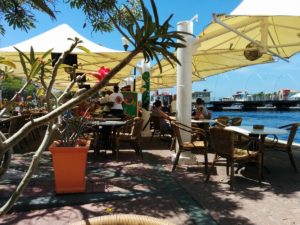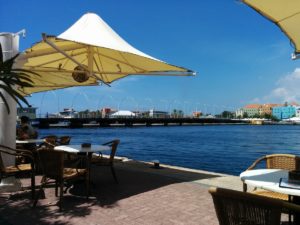 "hey, what's going on over there?"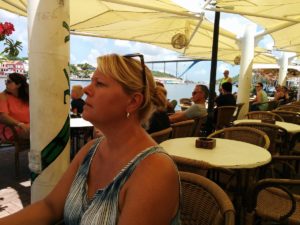 This is the floating market across from the customs building. All those boats come from Venezuela loaded with fresh food to sell: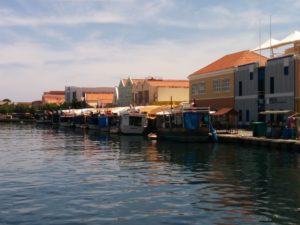 The market itself isn't really floating it's on the sidewalk but it's about 100+ yards of all this beautiful fresh food, from Venezuela. We haven't seen a market like this since Guyana: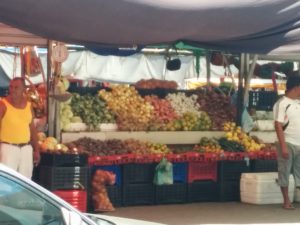 Nice Venezuelan boat: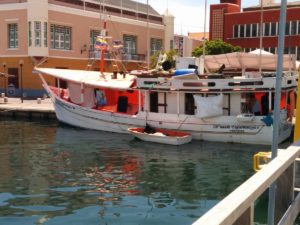 These three at the end sell fish in the early morning: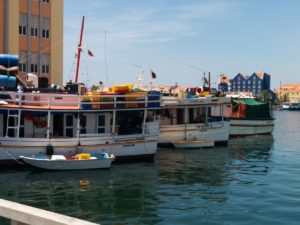 Maritime Museum just across the foot bridge from the floating market: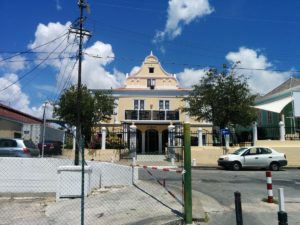 The museum has tours of the industrial harbor on Wednesday and Saturday. Actually there was a lot of historical narrative in the tour. "Yay lets go look at a working industrial port!" What a trooper: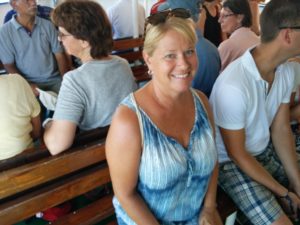 Everyone is herded from the museum down to the waterfront and onto a ferry boat: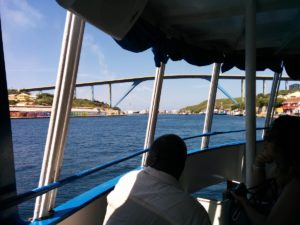 Oil storage, and somewhere in there is a refinery. The refinery operation is currently out for bid if you're interested in running an oil refinery. The contract comes with a clause that you have to clean up the massive oil spill the last operator caused just before they skipped town…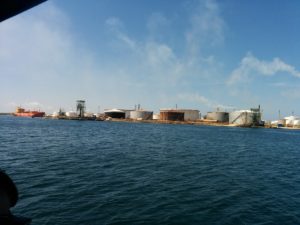 Dutch Military Base. That Dutch Navy ship just returned from delivering disaster relief to Sint Maarten: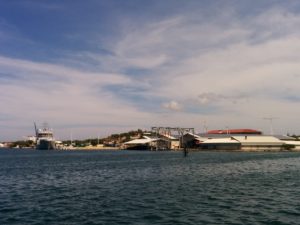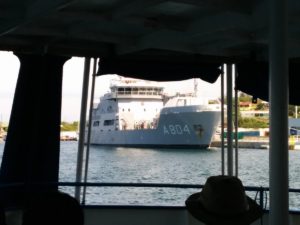 Ship being scrapped: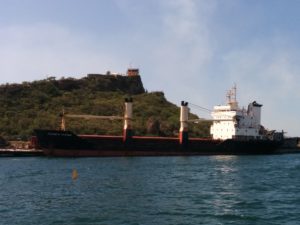 Dry dock. They were just flooding the dock to take that ship out in the next day or two: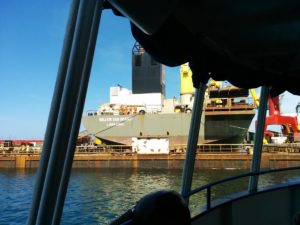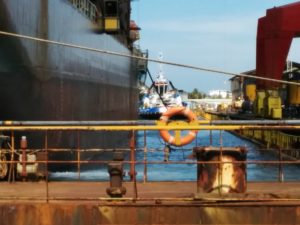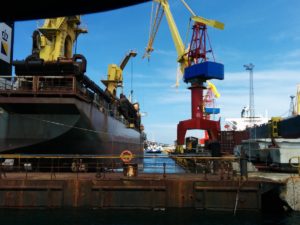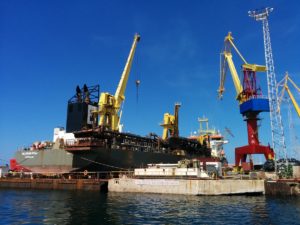 Next in line for the dock: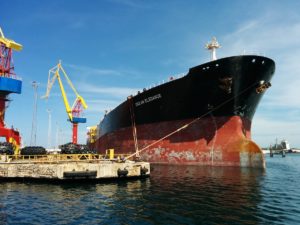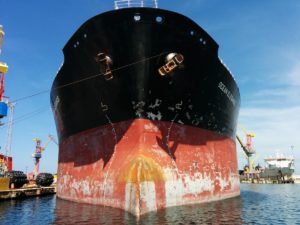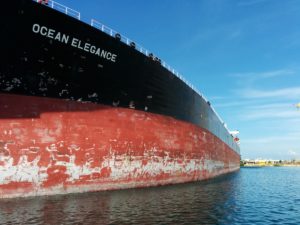 And next…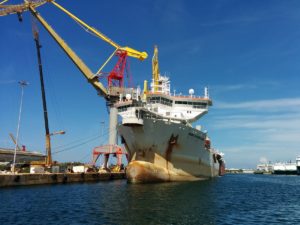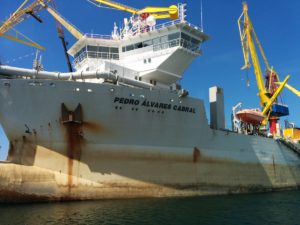 That oil tanker belongs to Venezuela and is currently being held here over money issues: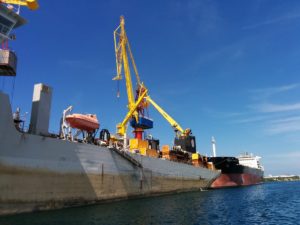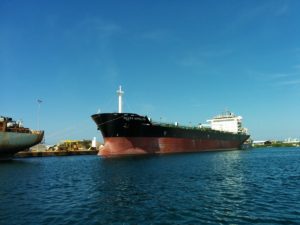 …more boats: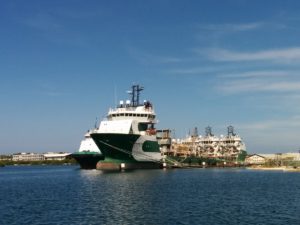 Container ship being placed pier side: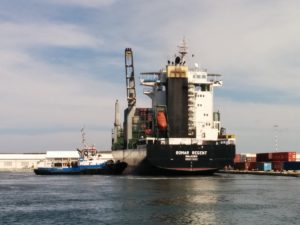 And back down Sint Anna Baai to Willemstad: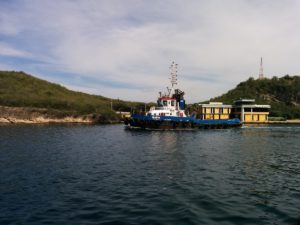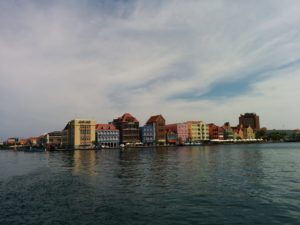 The pontoon bridge opened while we were crossing. Just starting to open: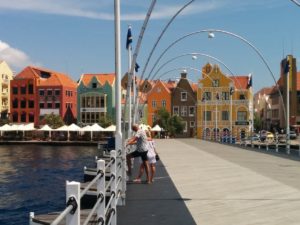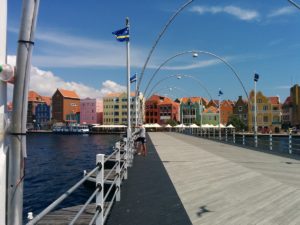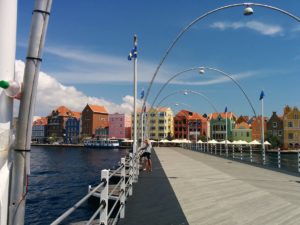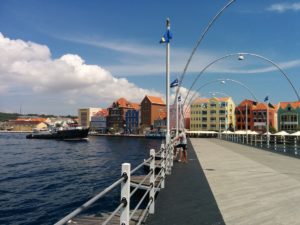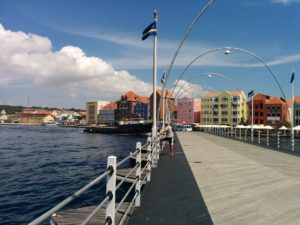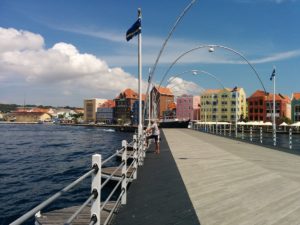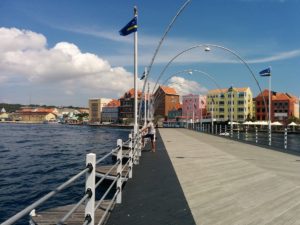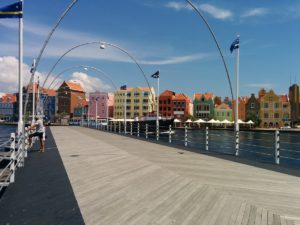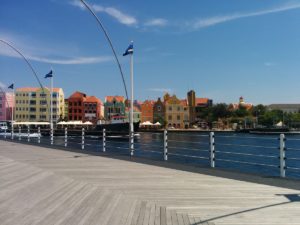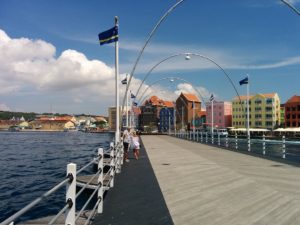 The hinge at the other end: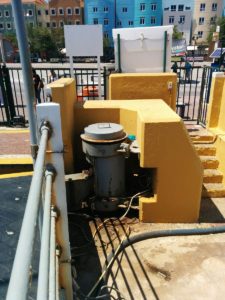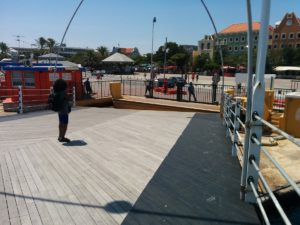 And we found the Curacao sign: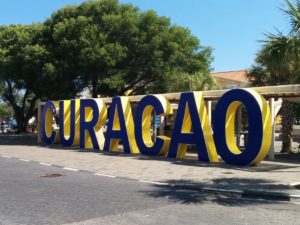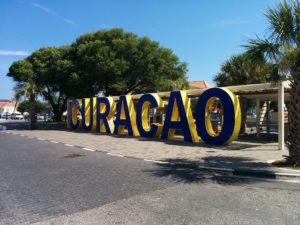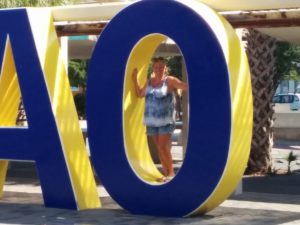 This is Rif Fort on the Western entrance to Sint Anna Baai: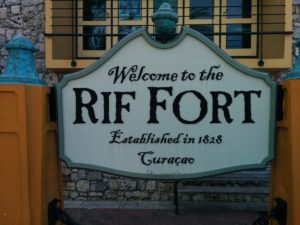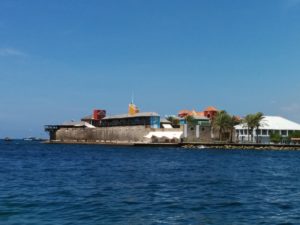 There is multilevel shopping and dining inside the fort: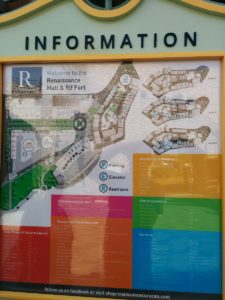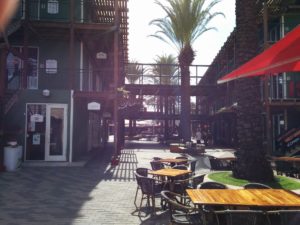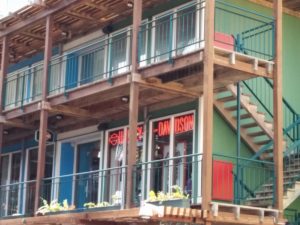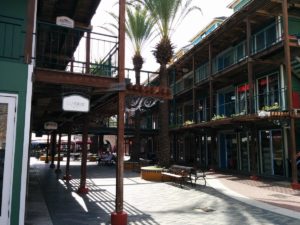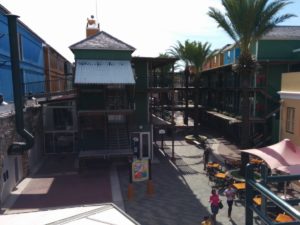 And a great view back across to Punda: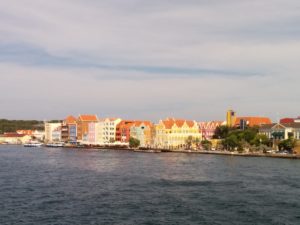 Walk out the other end of the fort into the cruise ship shopping area and Renaissance Hotel and Casino. They had a Tiffany's, a huge Starbucks, and a really nice cinema along with all the other names you'd find in a cruise ship mall. Blah blah blah, but fun for a change: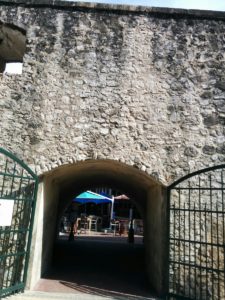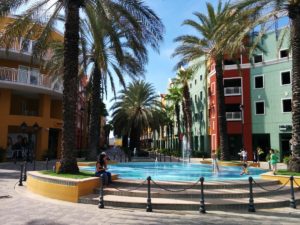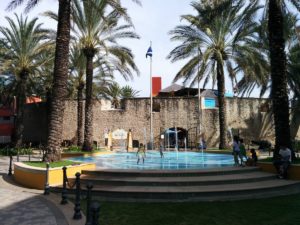 And this wouldn't be "livin' the life" without a broken shroud!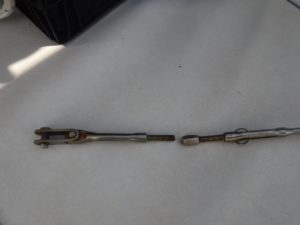 Of course that involves going up the mast two times to replace it (for those of you that don't live on a sailboat):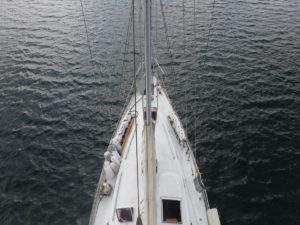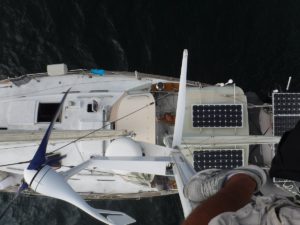 Nice view of anchorage B in Spanish Water: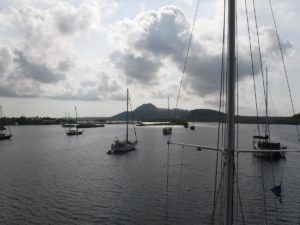 Up again to install the new shroud. Curacao Rigging did an excellent job making our new shroud, unfortunately he did not have the parts to make the other three. The hurricanes that ravaged the leeward islands this year have made obtaining parts very difficult. Anyway, if you need rigging done in Curacao and have the time, email Gijs (Hice) at Curacao Rigging, great work at a fair price!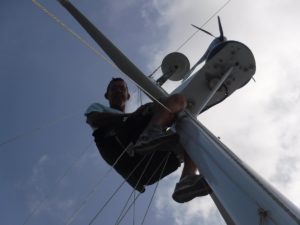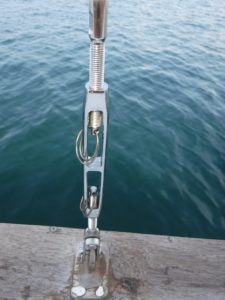 With our new shroud installed it was time to move on. We checked out of Curacao and headed 25 miles up the coast to Santa Cruz Bay for a few hours of sleep before departing for Aruba…at 11pm… Passing Willemstad and Sint Anna Baai: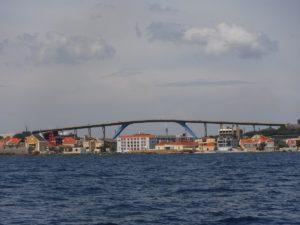 Have you ever been cut off in traffic? Conversation in our cockpit:
"Dave, I'd go behind that tanker. No were doing eight knots, were fine. OK it's your boat." We really were doing 8 knots but as soon as we got near the bow of that tanker he sped up…I think it was deliberate, and I think they were up in that wheel house laughing about it, doubled over in pain laughing about it! I, I say I because Tanya told me not to, think I may have cut this tanker off…just a little maritime faux pas.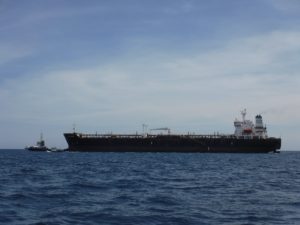 We anchored just outside of Santa Cruz Bay for dinner and a few hours of sleep before heading to Aruba. We ate, cleaned up and took a dip in the ocean before bed. The water there was so clear it was amazing. We departed at 11pm with winds predicted to be 15-20kts. We had sails up in 17-23kts of wind for about 15 minutes then the wind died. We ended up motor sailing in 7-10kts of true wind for the entire trip…ugh. Buy fuel in Curacao, it's the cheapest you will find between Martinique and Aruba!