Refrigeration…Part Deux!
We're in Bonaire, back on a mooring, it's a beautiful Saturday night… "You wanna go out?" "No, let's stay in, it'll be fun!"
…we'll get sommme Niiiitrogen: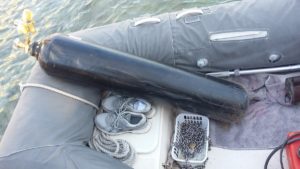 …aaaand (clockwise starting bottom left) a vacuum pump – R134a refrigerant – and a brazing torch: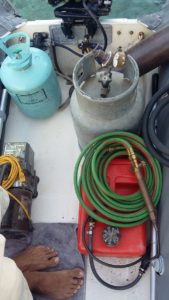 …and invite a friend over to fix our refrigeration. FUN!!!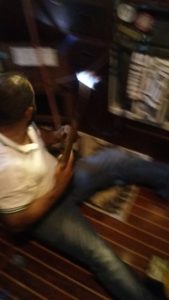 A very blurry pic of Ramon Tavarez, of Tavarez Refrigeration, holding a brazing torch and putting the final touches on our fridge…on a Saturday night! If anyone sails into Bonaire needing refrigeration repairs, we highly recommend Ramon! Phone 786-3801.
Saturday business hours on Bonaire are generally 9am-2pm. Ramon answered the phone, came out to our boat at 4pm to diagnose, and back at 6pm to get started. He worked on our fridge for almost three hours on a Saturday night and charged a very reasonable price. And it's a small world. When we started having fridge problems, Tanya found (on Facebook) a general contractor who referred us to Ramon. The contractor was away on vacation visiting their daughter, who lives in our town in Florida. Anyway, we're very thankful to have found him!
We are also thankful for Dave and Mary on Wandering Rose for keeping our food in their freezer! Thank you!!! We met Dave and Mary in Antigua over a year ago and crossed paths again here in Bonaire! I think it was our first day here, we were down below working on the fridge, when we heard someone banging on the hull "Dea Latis." It was Dave and Mary! It's great to meet up again with such wonderful people!
Since I have kept you on the absolute edge of your seat with boat repairs, here is some diving pics. Gratuitous selfie: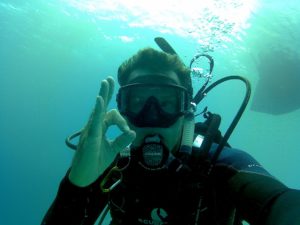 We're back on a mooring. One of the better dive sites near Kralendijk (crawl-en-dike) is right off our stern. We are moored on a dive-highway. There are divers under our boat all the time (not a complaint at all, it's funny). Day and night, boat divers and shore divers are crossing under our boat or north and south along the 70 foot drop off behind our boat. Night divers are especially entertaining, flashing their lights in all directions, it's quite a show. I was diving off the boat the other day, about 50ft depth heading north, and met a line of six divers heading south. There was a dive-master leading five others, he looked at me, I looked at him, he saluted, I returned, and along we went. It's definitely a busy dive site, busy but not crowded. Back on a mooring: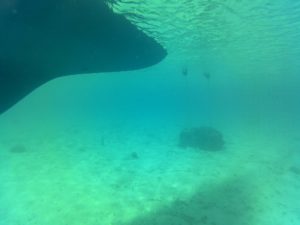 One of the downfalls of a busy dive site is shore divers. Truck loads of shore divers park along the beach in front of us, drag their gear to shore and wade out to dive. Most of them are quite professional but at least 10% of them act as if they have no certification or training at all. They show up with tank-mask-fins, no suit or safety equipment, and stumble and stomp into the water. They flail out into 10 feet of water, dump their buoyancy, plummet to the bottom, stomp around stirring up clouds of dirt and destroying the visibility. At this point they begin making wild hand and arm gestures at each other, point at their ears, stomp around more, and one of them inevitably returns to shore while the others continue on. This too is entertaining but unfortunately it leaves the water very cloudy for the entire day. …so that's why these pictures are so cloudy…
Micron 66 bottom paint seems to work well: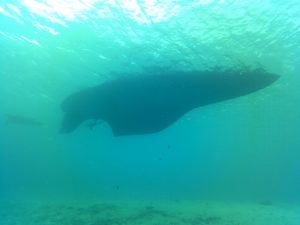 And the crazy-expensive Prop-Speed anti-fouling we applied to the prop and shaft seems to be doing a great job as well: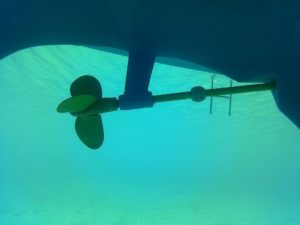 The almost sheer drop-off right behind the boat: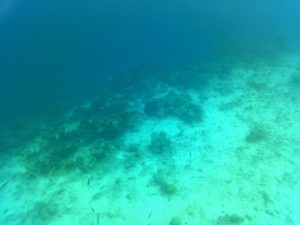 …friendly fish looking for a hand-out: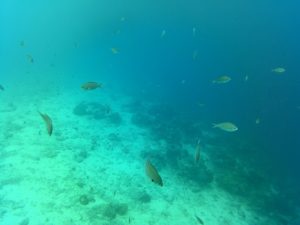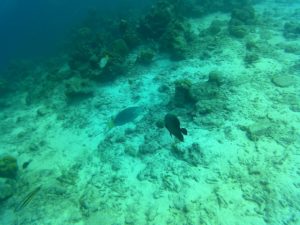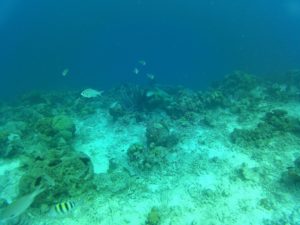 Edge of the cliff: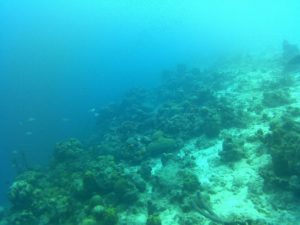 …more fish: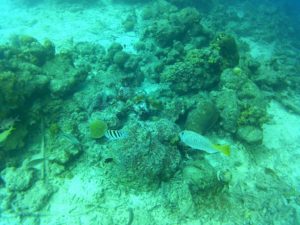 Over the edge: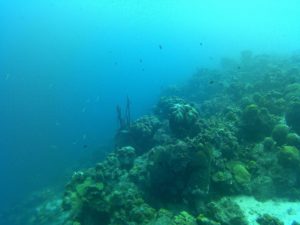 Brain coral: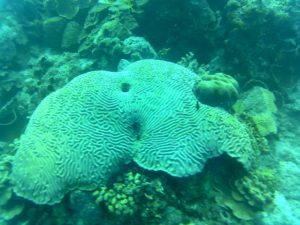 Stationary school of fish, they just hovered there as I swam past: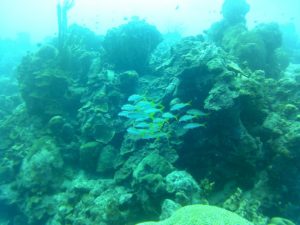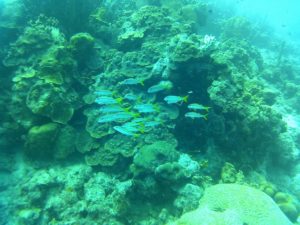 Looking up toward Dea Latis from about 40 feet below: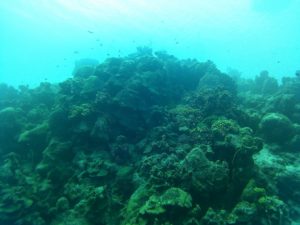 That's it for now. More to follow…